90 Ordnance Company

Candahar & Drummond Barracks (Tidworth) 1989 - 1992
I arrived at Tidworth on 4th July very early at 6 am, so had to wait in the mess managers office to be allocated a room which I had arranged two weeks before, however, this time served hasbeen forgot and tried to offer me a box room in the annexe which was in a row of 3 houses some 200 meters distance from the mess and totally unacceptable, I spoke to the RSM who seemed concerned, but was getting nowhere fast. After 6 hours of hanging around I eventually found a room in the annexe, but this was only temporary as it was not secure. Tidworth Garrison at that time was a nightmare trying to find my way round, a large sprawl of old buildings, there were 4 lots of barracks identical, so easy to get lost, at 11 am on the day I arrived a soldier deliberately shot himself in the barracks, welcome to Tidworth!!.

Life in the Mess was cushy, not that regimental which suited me just fine, bit of a bind at meal times travelling from the annexe to mess and back, but had more privacy, the RSM Royal Signals was relaxed, but was known as "Gripper" by the Scalies (Signals lads). Missing evening meals usually resulted in meals being plated, however, some scroates often sampled the food after a drink or too.

Then I had to book in with company HQ which also was fun trying to find, the first person I met was the Admin Officer, Pete Marsh whom I knew from Viersen, a good bloke and very helpful, I explained my situation regarding some personal issues, I was determined not to become an admin problem. Then spoke to the OC Jonathan Frere (BA), he was quite posh but he too was sympathetic. Next, check where I would be working, this was getting better, it was at Drummond Barracks a few miles up the road in Ludgershall next to the Vehicle Depot.

So I immersed myself in work and concentrated on keeping fit, the area itself was old, definitely not the place to go on holiday, you'd be hard pressed to find any postcards of this place. The Storeshed was located within the DMED medical depot, basic but was acceptable, bit of a pain traveling to and fro, then I suddenly clicked on, there was a unit photograph of 81 Ordnance Company taken on Montgomery Square in Aldershot, this was my old unit, apparently 81 Ord Coy had relocated to Tidworth on returning from the Falklands War and changed name too, well what a surprise. So, I was in the Delhi Sergeant's Mess (Candahar Barracks), living in the annexe (Jellalabad Barracks), Company HQ (Candahar Barracks) all in Hampshire, and working at DMED (Drummond Barracks) in Wiltshire, this would make anybody confused.com. especially at night. One of my duties was as 2nd in command of the FSA Forward Storage Area (disused Bramley Ammo Depot - Basingstoke), basically a small team working separately from 90 Ord Coy when on exercise, Mac McIntyre assisted me and was also the unit military training sergeant, a good lad with a great sense of humour, but he didn't like early starts i.e. stand to at 6 am. Archie Archiebald was another good lad, a bit young for a sergeant but switched on, he had a bit of a fling with one of the mess staff Nan Yau a Thai girl, very pretty too, he left the army after a short tour in Belize, married a local girl and last heard of he was in Australia. There were of course the unit crazy gang, Scotty, Graham Holmes, Shuff (Shufflebotham) and the really crazy one Jeff Upton, never boring with this lot around but good lads all the same, they were cheeky and cocky with it, but I could always depend on them to get the job done.
90 Ordnance Company (9 Ordnance Battalion) 27th July 1990

Spud Murphy my old mate from 3 BAD & Viersen was always taking the pi*s, Dave Brock our next to useless company sergeant major asked Spud to have the unit's pride and joy "The Cannon" which was at the time 150 years old (The Cannon was 150, not Spud), to be fully cleaned, this meant not just the brass cannon being polished, but also dismantling the base (Stand) which was to be stripped then re varnished. A few days later Dave popped back into the MT section to ask Spud how it was going, Spud said "it's all done no problems", except the stand was missing!! Spud said "Oh, I thought that was just a pile of old rubbish, so we threw it in the skip" Dave was mortified as he had just seen the local council disposal truck leaving Drummond Barracks, Dave pannicked, got in his car racing after the truck out the main gate, Spud was in bits laughing as Dave gave chase, Spud what a lad (Twat), great mate all the same. "Mac" Mcintyre had arranged for the unit to have a run out on the day we were all going on xmas leave, but only half the unit turned up, the OC Major Frere "Jonathan" was far from pleased so he arranged for everyone to attend later that day, where Mac was to beast us all, I remember we had a tough session, Scotty was in our Charriot team and was still suffering from the night before (Shedded), soaked to the skin, we didn't forget that day in a hurry.

My boss Captain Jack Leek (Uncle Jack) was great, giving me his support and space to get some personal issues sorted, he had come through the ranks so knew the score which helped me a lot, the lads were a good bunch, some crazies but overall I was very happy working there. Spud, Phil and me had some laughs remembering our time at 3 BAD and other units, always giving each other lots of stick, Phil & Norma invited me to bring my daughters down to Tidworth for the odd weekend which was great, you don't often get this type of friendship outside the services, and was very much appreciated. I was volunteered as the unit Health & Safety Officer so had to attend a 2 week course at Blackdown, I realised during the 1st week that it I must have committed some heinous crime in a former life, this was my nemesis, cruel & unusual punishment, my sentence was death by view foil!. Sitting in classrooms all day did my head in, so never bothered with evening meal in the mess, just went for a 6 mile run, then out with the lads to the White Hart in Frimley for a few? drinks. The AO Jack Cook was a former RSM, (He thought he still was), so I was thrilled to handover my Health & Safety job to him when I finally left 90 Ord, think Jack bit off more than he could chew when applying for short term commission, like some others I could mention!!. Ah, the glory of changing to MTI, just for quick promotion, until it comes back and bites you in the ar*e!!.

The OC was always very helpful to other units, "Yes, we'll provide our lads to assist in the stables" he was "Horsey" of course, later he volunteered us for CASEVAC (Casualty Evacuation) with various injuries!!. We were shipped to Bramley, a former Ammunition Depot north of Basingstoke, (FSA HQ no less), Jack leek giving the nursing staff some grief, so the staff gave him a bed bath, fully clothed. The medical staff were odds / sods from all over the UK, unfortunately I had the pleasure of working with them again (Op Granby 1990 Bahrain), enough to drive anyone mad this lot, see further down this page.

I decided next time on leave to go home to Newcastle, then spend 10 days away from everybody/everything I knew, so arranged to go to the lake district where I'd been many times before and loved the place, I did a fair bit of hiking staying at youth hostels having a good time. However, I met a group of people doing the same thing, one girl in particular seemed friendly, her name was Elaine, the last thing I was looking for was a partner or new relationship, but we got chatting and eventually went for a drink, next night a meal/drink and as she was from Taunton (only 1 hour 40 mins away from Tidworth) we agreed to meet up in Taunton the following weekend and things developed from there. This was approximately 14 months after arriving in Tidworth, so was optimistic but cautious, and looking forward to where things were heading. This seemed too good to be true, Elaine was a primary school teacher and also divorced, so every weekend when not on duty I spent in Taunton which was a very nice place, handy for sightseeing in the south west, we had some great times travelling around.
| | | | | |
| --- | --- | --- | --- | --- |
| | | | | |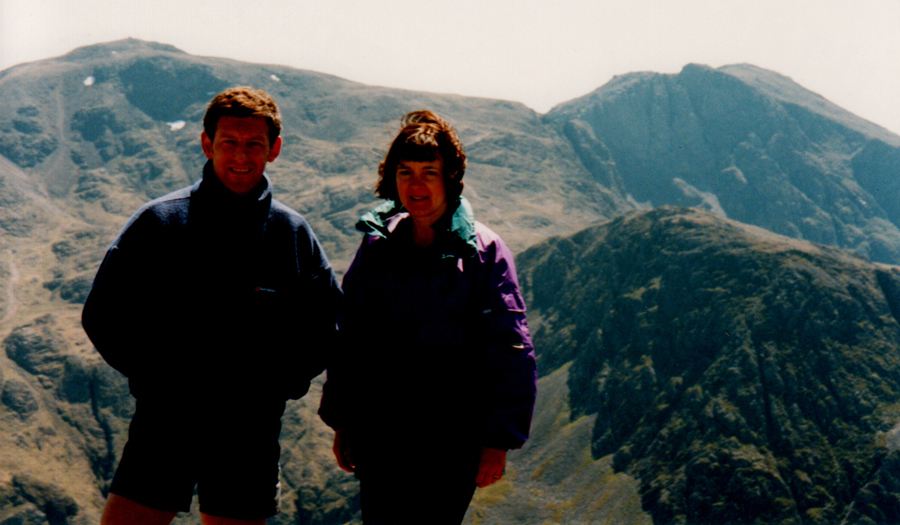 After the reconstruction of the Sergeant's mess in Osnabruck (June 19th 1989) carried out by the local PIRA representatives from N Ireland, I and several other soldiers had to go back to Germany a few times, Identity Parades (Weisbaden) and Court Case in Celle, to meet our old Irish friends??, this was a pain. Some of the witnesses refused to testify which I could understand, but found it a bit unerving, some of the defendents tried to intimidate me (sat just a few feet away). I was hounded by the German police, BKA, also the SIB / Military police and had a visit from the Somerset & Avon constabulary "Encouraging" me to attend court. The defendants were all found guilty, but were released the next day!!. So it's not just British courts that are soft on crime. The local army camp I was staying at wasn't too far away, the military driver was keen to get me back to Hannover airport (100 mph) thought I was a security risk.

Back in blighty I bumped into Tom Armstrong (ex Heavy Drop) whilst competing in an orienteering event near Lulworth Cove, he met other lads from hullavington including Andy Fox & Malcolm (Geordie) Bowering who also re badged into the Army Physical Training Corps, Andy was doing fine as was his babysitter, well.... until Andy's misses found out!!! what a lad never changed. Geordie Bowering my old mate was still in the shot (Aldershot) working in Maida Gymnasium at the top of Queens Avenue. Have met up with Malcolm a few times recently, sandbags at the ready lol.

When I first met Elaine I read in the newspapers about the Iraqi invasion of Kuwait (2nd August 1990), little did I know at that time how much it was going to affect our relationship. In Sept 1990 I got orders to go to the middle east attached to 22 Field Hospital (Aldershot), this meant going to Bahrain, the military hospital was located opposite the military wing of the international airport on the island of Al-Muharraq, it had previously been on the site of the old British Military Hospital. My job was being in charge of a small procurement team, purchasing equipment from local resources, something I'd never done before, so was a whole new experience for me. I had previously arranged to spend a day with my daughters 2 days before departure, I got time off for the wednesday, but the orders were brought forward, so I rushed down to Aldershot to see my daughters for a couple of hours that night. Only to discover that I would be spending 2 days at South Cerney whilst awaiting our flight from Brize Norton, not very impressed at all. We flew from Brize on the Friday landing in Bahrain the next day, it was hot and humid as we expected and were briefed by the CO reference which hotels we were staying at, Hotels ?? wow, the Regency Intercontinental a 5 star hotel, things were certainly looking very good, only trouble was we had to bed down for the first night in a function room, needless to say we were all up early and headed for the swimming pool at 5:30 am!.
| | | | | |
| --- | --- | --- | --- | --- |
| | | | | |
It Wasn't All Hard Graft ??
Uncle Jack was right "Life's a Bitch" !!
The Crosses we have to Bear !!
| | | |
| --- | --- | --- |
| | | |
| | | |
| --- | --- | --- |
| | | |
We were later allocated rooms, all the mod cons and a great view to boot, we weren't allowed out in uniform so had to get some light clothing from the local Souk (market), working hours were 7 am - 1 pm, which I reveled in, also getting LOA for living allowances, the hotel included breakfast only, so the Kentucky Fried Chicken shop got the hammer. There was a slight snag however, the CO didn't even know we (myself and 2 Corporals) were with his unit, so had a meeting with my boss captain Lawrence a bit of a victor meldrew (even the Padre's didn't like him!) we justified our existence and started work, reminds me of the film Cool Hand Luke "What we have here is failure to communicate". The RAF across the road had total control of finances so every transaction had to go through them, we made sure all monies were accounted for, receipts and book keeping was in good order, I did get some strange requests, like crockery for the CO when entertaining guests!. I also had to arrange a unit photograph and later on the xmas party through the British Club an expat club with all the facilities we needed. The RAF lads had previously been in Damamm for 4 months, but shortly after arriving in Bahrain were given some fantastic news, they're tour in the gulf was being extended to an extra 9 months or more, well, they were just cock-a-hoop with joy, later all 11 junior ranks applied for PVR, (Premature Voluntary Release) purchase thier discharge out of the RAF, oh dear, not happy at all, it was definitely Teddy in the corner time.

This was interesting work learning basic arabic and local customs, I did manage to get around locating the best businesses to do deals with, some suppliers knew the score, others tried to rip us off, we even had business cards with comments reference good or bad and who to avoid!. I met an old mate from 3 BAD, Roger Bisson, a rugby player, quiet but still mad as ever, he was in charge of the laundry Platoon, his parent unit was with the Territorial Volunteer unit at Blackdown Barracks, Deepcut. We had some fun, frequenting the saloon bar in our hotel and a few others too, alcohol was only allowed indoors, definitely NOT outside, we didn't know there was a curfew on or what time we had to be back in the hotel until 5 weeks later, booking in/out, never heard such a daft idea. The RSM was ex 23 Parachute Field Ambulance, so we got on very well, he was older than most but built like the proverbial brick toilet, so not a guy to mess with. The Hospital staff were made up from doctors/nurses all over the UK, so there were quite a few differences of opinion, especially Matron, nice looking but a real battle axe, bit of a tyrant to the younger officers/nurses (rumour had it she was kicked out of the SS for cruelty!). The Adjutant was a lad and a half, can't remember his name but was totally relaxed about everything, never flapped. He flew back early as his wife was having a baby. As one of the few people to have a local driving license the Adjutant let me have use of the Quartermasters hire car (automatic), a bit embarrassing driving out the camp gate to my hotel with officers waiting to catch the bus, oh well, at least I worked for a living.

I was on duty one night (Orderly Officer), however, the Padre wanted to exchange duties with me, no problem, sorted, but, there's always a but, I get a phone call at 2 am from the unit guard commander, 5 of our lads are in the local civilian hospital, they aren't injured but under arrest. I inform the Adjutant (Field Officer) and arrange for transport to collect him from the Hilton Hotel, then myself, we check the booking in/out forms at reception, these lads hadn't booked back in. So we go to the police HQ, then to the hospital, it turns out our lads were being abused by some locals in a disco, our guys immediately inform the local plods across the road, so who do you think got arrested, yes our lads. However, one of the locals is laid out in A&E with tread marks on his face, everyone is tested for alcohol, after much discussion we arrive back at the cop shop where at 5:30 am no charges are brought and we all go back to our respective hotels, (maybe the RSM in the Falklands was right - I am Bloody Jinx), bet the Padre was pleased we swapped duties. As I had trained one of their medics to cover my job, I asked if there was any need for me to remain in theatre, (Just wanted to get back home really), I got lucky and came back to the UK just in time for my birthday in November, Elaine was pleased also.

Back in sunny Tidworth my mate Phil sorted out some leave for me (10 days), just had to check in with the new OC Major Steve Jones, he was from west Belfast and so not immune from a bit of stone throwing in his earlier years, he was a real character from HQ Airborne Forces in Aldershot so we immediately hit it off. However, after 5 days off Phil rings me in Taunton and asks if I still had a sense of humour ?. I had a sneaky suspicion that 90 Ord Coy was being deployed to the gulf, we became part of 3 Ordnance Battalion, minus the sun tan lotion and no 5 star hotel, but take a shovel!!, I had a feeling this might happen and it did. I had to tell Elaine, she came home from work tired but happy as it was the weekend, I didn't have the heart to tell her right then, so left it until we went out for a meal, she just couldn't believe it, I couldn't either. 90 Ord Coy departed Tidworth for Saudi on 3nd Jan 1991, lucky us we were flying courtesy of Kuwait Airways in one of their "homeless" jumbo's, with only 120 troops taking up the whole plane, cushty!.

90 Ord Unit Club - Send off 2nd Jan 1991

| | | |
| --- | --- | --- |
| | | |
| | | |
| --- | --- | --- |
| | | |
| | | |
| --- | --- | --- |
| | | We were staying in tent city in Al-Jubayl, a hard standing area with hundreds of tents, containers and hundreds more Turdis's (X between Tardis and a Portaloo) with Patriot Missile launchers situated nearby, the place was called "Baldrick Lines" while across the road was "Blackadder Lines" someone obviously had a sense of humour, I thought to myself ha bloody ha. We were there about 1 week getting bombed up and ready to move north, I noticed a landrover pull up, stop, and out gets an old (not so old) ex Heavy Drop lad, Vic Bennett (Captain), we had a quick but brief chat. Vic is now retired, we have recently been in touch via email. |

Moving closer to the Saudi / Iraq border I was detailed to drive a 14 ton truck (No License!) this involved a very short induction by Jonah, then drive down to Al-Jubayl to collect stores from the traffic branch, the pay sergeant Nick Janik accompanied me on this trip, the truck was coughing & spluttering all the way down (Sand filter blocked), resulting in one very angry REME guy having to sort it out. This place was in turmoil, stuff everywhere, one of the newly arrived SNCO's was looking very pee'd off trying to sort the place out, he'd been given strict instructions to do things "Their Way". However, again I bumped into someone I wasn't too keen on, Terry Brookes, he tried telling me to collect stores for other units not just 90 Ord Coy, I ignored him, he must have seen my loaded SA80 and realised he shouldn't pi*s me off again!!.

After leaving 33 Field Hospital 7 lbs lighter we (3 Ord Bn) moved forward to cross into Iraq, as expected we see a few sights, mainly burnt out tanks and lots of makeshift graves, we stop later for a few hours but can't stay long, have to get out of Iraq (so as not seen as army of occupation). That night was very long as was the convoy we were in, stop - start - stop - start mode, the military police scooting back and forth waking up drivers, to keep going. We eventually reach our designated location (somewhere in the Kuwait desert), we would remain here for the duration as the war was officially over, so for the next 6 weeks it was sun bathing, eating lots of goodies that were sent over from friends, relatives and well wishers from the UK and answering letters (Bluey's) sent from all sorts of people back home. Some of these letters were very funny, some sad and some just plain crude (pervy). I'll explain, one group got a bluey, read the contents and refused to reply (a definite no no), so they re sealed it and passed it onto Sergeant Ray Keeny, on opening the letter, the sender wished us all well and hoped we'd be home soon, and that "he" was a man, but, felt very much a women dressing all girly like at home and work, he even sent a newspaper cutting wearing his new "outfit", well, on reading this Ray immediately dropped the letter cursing and swearing, looking for something to clean his hands with, the troops were in bits, Ray was quiet for a while after that. I felt sure Ray replied to his new Girly friend ?, I was never confused. Ray was originally delegated as escort for all the unit vehicles being shipped over from the UK, but, as the vessel stopped over in Morocco the local customs officials were on the thieve, Ray immediately "Advised" them to stop, this resulted in a fight.

Ray was later bailed out by the British Consulate, flown back to UK, then flown out to Saudi on the first available flight, Steve Jones said "We're not sure whether to court martial you, or give you a medal", it was all forgotten about, lucky sod. I remember Gordon Raw asking his mate to take some War like pics of him in the desert, a couple of us decided to walk behind Gordon, we dropped our trousers and mooned, the photographer clicked on and said nothing, I never heard anything till we we back in Tidworth, Gordon's misses had put the film in for developing, boy did she get a surprise!!, Gordon was a bit miffed, "ere I wanna word with you.
As per usual we only had urban camouflage cam netting for our vehicles, which stood out like a sore thumb in the desert, so Steve Jones (OC) decided to make a point by having all our vehicles cammed up with green cam nets, the top brass got the message, two days later, hey presto desert cam nets. However, we still wore urban DPM camouflage combat suits, but that was soon remedied, some of our more adventurous troops paid a visit back to Al-Jubyal and "Acquired" large boxes full of the stuff, well pointless being in the Ordnance if we couldn't have the goodies ourselves.
| | | | | |
| --- | --- | --- | --- | --- |
| | | | | |
I managed to get to Kuwait a few times sightseeing and noticed the locals were all being processed via a new census to see who was still alive. We used the trips there to get free 10 minute phone calls back home, one night Phil & Me were making our way back to our unit location, but as we weren't allowed to use headlights, or any lights, we managed to by pass by 90 Ord Coy. So had to use NVG's night vision goggles, with me wearing these cumbersome goggles and Phil driving blind, we eventually got back after much cursing and swearing from Phil, he was attending a regimental dinner later that night in combats and silly looking bow ties, oh and only non alcoholic beer!! well that's what Phil said. Talk about crazy antics the lads egged on by Jeff Upton decided to have a rugby match, in a sandstorm!! mad tw*t, but that was not unusual for Jeff, we had been to evening meal once and got ourselves disorientated (lost) on the way back to our 4 ton truck, well it was very dark. Even the Navy pilots (RNAS Yeovilton) near our location refused to fly at night. After all the hoo ha had died down we went to some local military firing range to get shot of all the ammunition, 66's, grenades (L2A2 / white phos) then the OC got us all firing the captured AK47's just for interests sake. We had lunch there too, some yank special forces were nearby firing RPG's, a bit dodgy as some of the grenades malfunctioned so we didn't bother. We offered them some all in puke (mince/carrots/spuds/onions/ you name it) they lapped it up and offered us some MRE's (Meals Ready to Eat) but we'd been there before, freeze dried crap, not even as good as our compo rations but had the same binding qualities, that is MRE's = Meals Refusing to Exit!!!.

90 Ord were allowed to stage comedy sketches (Plays by the troops) to take the pi*s out of whoever they liked, no holes barred of course, Steve Jones (OC) first covered his back by proclaiming that he had NO say or took any responsibility for the content of these skits, (Umbrella Job I think). This would obviously be played out by some of the incidents that had taken place during our time in the Gulf, we in the stores HQ had a bloke called Chris Hart, weird individual, I say that co's he was weird, hardly ever went to meals in the tented cookhouse, he had a nightmare one night, his sleeping bag zip was stuck and woke up panicking, shouting "Help me, Help me" so we included that in our sketch, except we added a few scenarios with someone "Having him" with a light bulb stuck up their Ar*e. Back in Tidworth mess Chris was known as Batman, he would go to bed after finishing work, then get up later and wander round the mess ??, yes, very odd.

The OC as all the officers got some right old stick too, no rank discrimination here of course, and no redress was allowed or tolerated, as that would mean more stick, can't recall anyone taking the mick out of Chris Christopher, ex London Irish, would you??. Later some of the lads would travel to Al-Jubyal to deliver / collect the unit stock holdings (Tape Accounts), plus have a shower and use the porceline toilets, maybe having time to pick up a copy of the local military tabloid (The Sandy Times). At nightime some would just listen to music on their walkman's or tune into the British Forces Broadcasting Corporation, like the News Huddlines with Roy Hudd or Round the Horn with Kenneth Horn, aaah the old one's are always the best!!. The Yanks had Liberty Radio, god, what utter crap those guys talked about, tip for the day "Smile on the inside, you get less grit in your teeth" or "Don't abuse drink, you may get a reprimand, which will follow you to your next assignment" what Bolloc*s!!.
| | | | | |
| --- | --- | --- | --- | --- |
| | | | | |
| | | |
| --- | --- | --- |
| | | |
We did manage however to phone home courtesy of our american cousins, they had 3 large tents with 50 phones in each, we had to give a pin number (Changed weekly) then the operator put us through, the yanks did at least have this privilege sorted. We used to travel late at night, without vehicle lights to find the phone location, often in the middle of nowhere, I remember Jeff Upton ringing his missus, the operator said "Sorry caller, no reply" Jeff said she's probably at the local bingo in Preston, guess what? the operator only connected Jeff through to the bingo hall, Jeff's missus must have crapped herself, "Attention please is there a missus Upton here, your husbands on the phone", full marks to the operator, what a star!!. Later when things were all quiet, we were stuck in the middle of the Kuwait desert, but did manage to get to Kuwait city (50 Km's away) all for a free 10 min call, the locals were still very busy registering with the local authorities to see who was still alive!!. We regularly passed Death Strip where the thieving Iraqi's got hit by the yanks, what a mess, lots of personal belongings scattered about, stuff they'd stolen from the people's homes. There was lots of pilfering going on, not 90 Ord though, perish the thought??, the yanks didn't bother nicking humvee spares, no, they nicked the humvee instead, well saves messing about I suppose. The SIB Military Police set up "Operation Sandcastle" on return from the gulf, investigating how so much equipment was missing, they should've stayed in the gulf and used very big shovels, just maybe!!.
| | | | | |
| --- | --- | --- | --- | --- |
| | | | | |
| | | | | |
| --- | --- | --- | --- | --- |
| | | | | |
| | | | | |
| --- | --- | --- | --- | --- |
| | | | | |
| | | | | |
| --- | --- | --- | --- | --- |
| | | | | |
When all the frontline troops had moved on it was our turn to return to Saudi, we spent a week in "Baldrick Lines" ah!! porcelain toilets, we sorted ourselves out ready for the return to UK, one of the lads was caught sniffing lighter fuel, what a nob! all that time he'd been doing this with a loaded weapon, grenades and explosives, takes all sorts I suppose. We had a few hours in Damamm shopping for pirate music cassettes and other goodies before flying back, as soon as we were airborne the RAF dished out cans of San Miguel (where have seen that before?) and red wine. Arriving back at Brize Norton some guy there pestered us asking if we had and ammo, grenades or explosives, sod off! straight past him and onto the bus where again breakfast was being handed out, Carlsberg, no thanks. We arrived back at Tidworth in early April, paraded in front of the unit club and given 28 days much welcomed leave, the storeshed had been used as a car park whilst we'd been away, guess who's car had flat tyre ?, got it sorted then back to Taunton sharpish.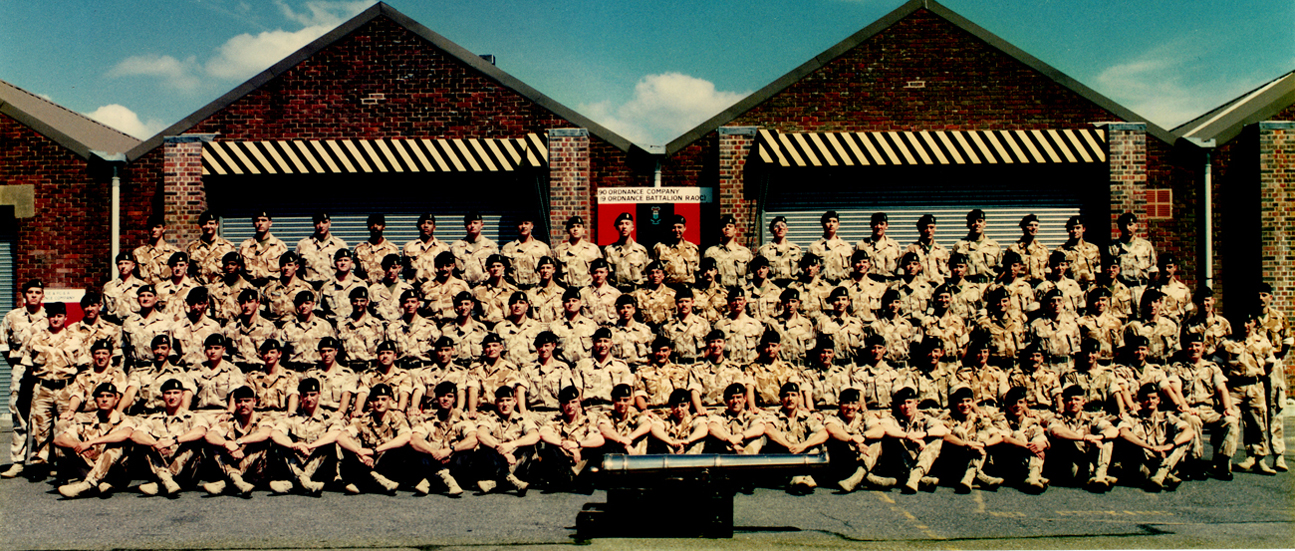 So, back home sorting out all the military vehicles from desert to urban camouflage, life was getting back to normal (whatever that is). A few months later the Admin Officer (John Thorpe) asked why I was improperly dressed, this being 11 am, apparently I'd been volunteer'd as Ordnance Warrant Officer for the Royal Tournament at Earls Court and had to attend a briefing in 2 hours time!!, I wondered why Phil & Jeff had smirks on their faces. So got changed into civvies, train to London, then Earls Court Underground (never been to Earls Court before), I miss the meeting, no surprise there, but did make the buffet lunch and met my old mate Roger Bisson again!!. The next three months is spent rushing between Feltham, Tidworth, Earls Court and Wandsworth (no, not the prison!), it was a new challenge for me, being attached to 2nd Parachute Battalion hosting the event, it was fun with a right bunch of loon's. We were trying to get everything set up whilst the opera play "TOSCA" was still ongoing, TOSCA, now where have I heard that before ?, anyway there's all these actors milling about dressed in period costume, including farm animals for effect, these (animals) were housed next to the restaurant "The Lamb and Flag" no wonder the sheep were nervous.

The Royal Tournament (a charitable event) was held between 10th - 27th July 1991, it was interesting to see behind the scenes all the different units/organisations to make the show a success, the military police had a motorbike and horse display, they did their individual displays and later a combined display where they had to race criss crossing in a figure of eight and later jousting to catch rope rings. Afterwards the commentator explained over the PA system who had what points, but his speech was a bit slurred, slurred ? the silly old twonk was Pi**ed, there was a brief pause before someone sober! grabbed the microphone to explain points system, I must admit I like a G & T now and again too, Graham Holmes was in bits wetting his pants. Later Elaine came up from Taunton to see the show (for free!) I managed to get some time off and show her around, afterwards we made our way to the Union Jack club.
Well Spud's time was up after 22 years service, we organised a regimental dinner for him & Jackie, also another lad from the signals was leaving, so a double send off. Phil as the PMC (President of the Mess Committee) had to arrange the seating, I had to send out letters to mess members for confirmation as to their attendance. It was going to be well attended, Spud asked how many were coming (Very conscious of drinks to be bought!) his face was a picture, "oh approx 140", Fu**ing hell Geordie, that many ?", got my own back for him forging my signature at Viersen. Spud & Jackie received a well deserved send off, very special friends indeed. Spud worked for the Agriculture & Fisheries Department last I heard, then had to retire early due to ill health, but Spud's as tough as they come, Spud has been back to Bracht (Click Here), he just couldn't stay away, suppose we all like to relive our fond memories, but the area is now a nature reserve, sometimes I think it's best not to re visit old places as it tends to destroy those memories, leave them where they are, in the back of our minds.

1991 seemed to fly past, being busy in the gulf, at work and the Royal Tournament, some lads electing to leave the army, others moving on through postings, however, volunteers were being sought for a year's tour in Bosnia, well sod that, I was then offered a posting to Germany (you'll get a new car I was told), it made no difference I was getting married soon and Elaine had a good job with a salary to match. Redundancies raised their ugly head, but I thought well why not, early finish and no pension loss, why not take the money and run?, so I did, especially as 90 Ord Coy were re locating, apparently to Abingdon and the new CO would be someone I knew from 12 Ord Coy the OC, so things were looking bad for 90 Ord, I promised Steve Jones I wouldn't let on to the other lads.

I planned all the usual re settlement courses and opted for Health & Safety at Plymouth College, from there I was interviewed for a job with Marconi Underwater Systems Limited, based in Templecombe Somerset approximately 45 miles from Taunton with a reasonable salary too. I got the job even though we had booked a holiday to Cyprus, they would honour my holiday booking (belated honeymoon), so, all in all a job well done, everything sorted I was offered the job the day before going abroad, cushty.
We had a great time in sunny Cyprus, arriving back early at Bristol airport and got home about 5:30 am, checked the mail, one letter from Germany from the BKA (Bundeskrimanalampt), they didn't forget our eventful evening in the Garrison Sergeants Mess Osnabruck June 19th 1989, thought that was all done and dusted, not so. I was due to start work on the wednesday, but the German authorities wanted me in court the same day. The BKA even telephoned me at 8 am just to make sure I got the letter and confirm timings, how nice of them, I couldn't wait!!. I didn't really want to go, but was "persuaded" by the local plods, so after a few quick phone calls to my new boss I got the ok to go and delay my start day. I was still technically in the army, so would have to go anyway, however when I came back everything was finalised, I was no longer in the army september 1992. There were several soldiers in Tidworth mess leaving at the same time and no we didn't even have the pleasure of a farewell regimental dinner, just a black ornamental swan and goblets with Elaine's and my names on.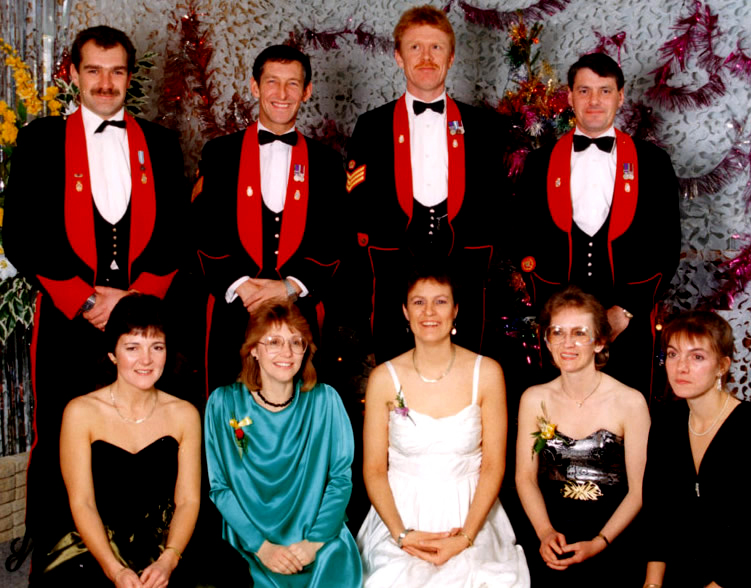 Ironically I had booked a room in the mess as Mr Broughton prior to going back to Germany for the court case, I was met by SIB military police and addressed as Mr when being briefed on German criminal procedure, court layout and who sat where. Later I did keep in contact with Phil & Norma, they came down to Taunton for the weekend, then it would be Phil's turn to leave. Looking back I don't ever regret joining the army, I had some fantastic times making many friends and achieved my aim traveling the world, ironically (I use that word a lot don't I) 90 Ord Coy did move to Abingdon, 91 Ord Coy relocated to RAF Hullavington (now Buckley Barracks) approximately 20 minutes drive away near Chippenham, only the name changed to 90 HQ Squadron - RLC (9 Regiment RLC).

| | | |
| --- | --- | --- |
| | | |

| | | | |
| --- | --- | --- | --- |
| Previous Unit Name | Old Location | Current Unit Name | New Location |
| 90 Ordnance Company | Tidworth | 90 HQ Squadron RLC | Abingdon |
| 91 Ordnance Company | Corsham | 91 Supply Squadron RLC | Hullavington |
| 92 Ordnance Company (Regular Shadow) | | 92 Ammo Squadron RLC | |
| HQ RAOC / EFI | NAAFI - Andover | HQ RLC / EFI | NAAFI - Andover |

So if I'd stayed in a bit longer I could've finished my time with a unit I had served in under 3 different names in 3 different locations ending in the 1 place I had the best time of my Army life, RAF Hullavington, The Big "H".

Short (Photo) Video with Family & Friends

Now back to Civvy street - Unfortunately Elaine & I went our separate ways in 1997.